Airbnb Entrepreneurship Academy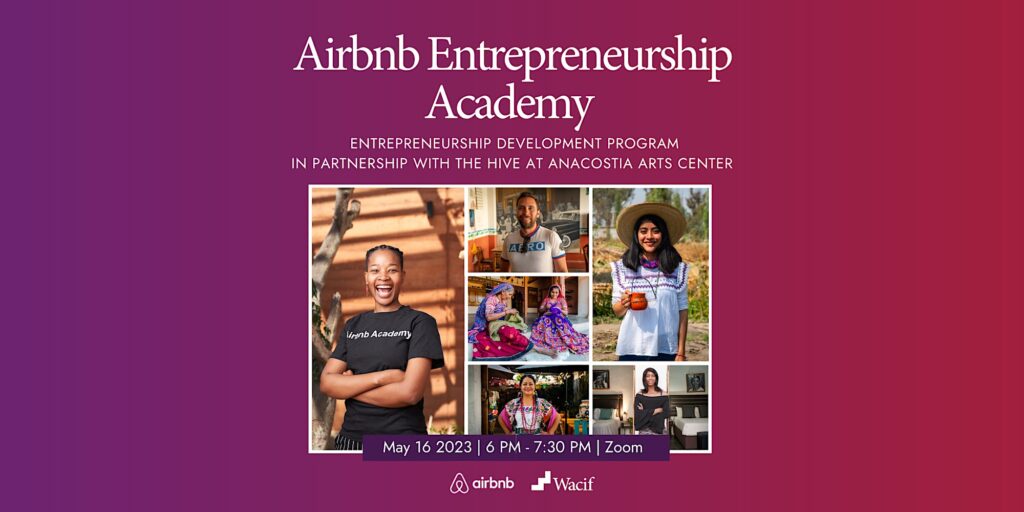 Through the Entrepreneurship Academy, Airbnb has helped more than 1,000 participants from underrepresented communities learn about hosting.
"The partnership between the Washington Area Community Investment Fund, Airbnb, and the Nasdaq Entrepreneurial Center is an exciting opportunity to expand pathways to inclusive entrepreneurship and hosting in the D.C region. With 36 years of experience as a CDFI, we have dedicated ourselves to supporting small business development and are thrilled to align with like-minded partners who share our mission to increase equity and economic opportunities in our communities."
— Sowmya Pelluru, Chief Brand and Communications Officer at the Washington Area Community Investment Fund (Wacif)
Learn more here: https://www.airbnb.com/d/airbnb-entrepreneurship-academy
Airbnb was founded in 2008 during the Great Recession when our co-founders opened their home to guests to help afford their rent. Over a decade later, 4 million Hosts around the world rely on the income they earn from sharing their home on Airbnb to help make ends meet. We want to help give more people, including those from historically underrepresented communities, the opportunity to benefit from local tourism happening in their own backyard.
We are announcing the expansion of the Airbnb Entrepreneurship Academy, an entrepreneurship development program focused on introducing individuals from diverse and underrepresented communities to hosting on the Airbnb platform in coordination with local community partners. Since its inception in 2017, the Airbnb Entrepreneurship Academy has grown from supporting one organization to over 40 organizations with 2023 marking the largest cohort of partners yet.
These partners share our commitment to empowering underrepresented communities through hosting and tourism entrepreneurship. Airbnb and the Nasdaq Entrepreneurial Center help fund these partner organizations to support their existing entrepreneurship programs. In 2023, we are working closely with our partners to provide Academy participants with an interactive education program that offers information and guidance from existing Hosts on how to leverage the Airbnb platform.
The Anacostia Arts Center and The Hive are powered by the Washington Area Community Investment Fund
Event Details
Date: May 16, 2023
Start Time: 6:00 pm
End Time: 7:30 pm
Location: Online