Athbheochan: Untranslatable Wisdom
by Meghan Walsh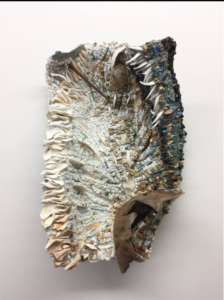 (Washington, DC) Embracing her Irish roots, Meghan Walsh presents Athbheochan: Untranslatable Wisdom; an Irish Gaelic work which means "revival". Each of the pieces in the series contain hidden, untranslatable words from all over the world embedded in a flowing and undulating series of three- dimensional relief mosaics of stone glass and other materials including tire scrap and a horseshoe crab carcass. Embedded in mortar and built to handmade substrates of mesh and mortar, each piece is a moment in the vastness of oceans – the vastness of wisdom that evolves with structured intuition.
Athbheachan runs January 26 – March 2, 2018 in Blank Space
inside the Anacostia Arts Center (1231 Good Hope Road SE,
Washington, DC 20020). The opening reception will be held on
January 26, 2018 5-8PM. Meghan Walsh will host an artist talk on February 7 from 2-4PM. Gallery hours are Tuesday – Saturday 10AM – 7PM and Sunday 8AM – 5PM.
A graduate of the University of Massachusetts, Amherst with a Bachelor of Fine Arts with Honors, Walsh also earned a Master of Agriculture degree from the University of Michigan and a Master of Professional Studies in Real Estate Finance from Georgetown University. She is also a multilingual, owner/principal Architect of MW Architecture, her firm since 2001. As well as Founder and President of AXIS-MUNDI a 501c3 organization, focusing on sustainable design in the US and Brazil. Walsh's work has been exhibited across the world from San Diego to Ireland; and has appeared in publications such as the Washington Post, Washingtonian and Institute of Architecture Journal, to name a few. With over twenty years' experience, Walsh has helped to cultivate the skills of other students, as an Adjunct Professor at The Catholic University of America and Howard University.
About Blank Space:
Blank Space is located in the lounge area of the Anacostia Arts Center. The center is a project of ARCH, a non-profit organization dedicated to creating a home for artists, arts, small businesses and cultural organizations, to fulfill its commitment to the revitalization and sustainable economic development of Historic Anacostia. The 9,300-square ft. arts center opened in June of 2013 and includes a café, black box theatre, two boutiques, a physical therapy studio, an artist exchange and book store.