Anacostia Arts Center currently sits on land originally purchased by the Margolis family in the 1930s. The family was renowned throughout D.C. for their vast ownership of property in the area. The location 1231 Good Hope Road originally housed three separate buildings, which the Margolis family leased to the discounted apparel store Woolworth for most of the century. The last two decades of the century proved difficult for the Woolworth chain, causing the decline and eventual fall of the once widely popular store.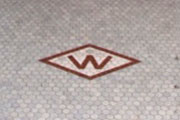 The "W" tiled into the floor at the Art Center's main entrance serves as a reminder of the Woolworth department store that once occupied the space.
The Margolis grandchildren decided to sell the Good Hope Road property in May of 1999. A local nonprofit decided to purchase the property from the Margolis family in 1999 with a 15-year loan from BB & T bank. For the next 3 years, Arch acquired funding and, in 2002, they began construction to transform 1231 Good Hope Road into a job training center for local residents. In 2011, the lower level of the building was renovated to serve as a small business incubator. After receiving feedback from area residents, Arch transformed the upper floor of the building in January of 2013, from a job training center to an arts center, with the goal of employing the arts and creative economy. Anacostia Arts Center officially opened to the public on June 22, 2013 during Arch's annual festival, Lumen8Anacostia, and has continued to grow as a home of the arts and culture. 
In December of 2021, the Anacostia Art Center was acquired by the Washington Area Community Investment Fund (Wacif) from Arch, with the vision to expand on the Center's historic mission to support the local art economy and culture and to create a Hub for inclusive entrepreneurship in the heart of Historic Anacostia. Wacif will continue to work with local small businesses, community members, artists, and partners to create equitable economic opportunities, build community wealth, and help businesses and residents have opportunities to prosper in place.