Anacostia Arts Center presents: East River Jazz Brunch
(Washington, DC) As a home for arts, culture, and creative expression, the Anacostia Arts Center in partnership with East River Jazz, hosts a monthly series of afternoon jazz through September. Guests can enjoy brunch at the Arts Center Café, before listening to cutting edge jazz presented by regional jazz musicians.
East River Jazz Brunch will take place on the second Sunday of each month, beginning January 14, through September 9, 2018 at 3pm. The event is free and open to the public. Brunch can be purchased at the Arts Center Café from 11am – 3pm. Anacostia Arts Center is located at 1231 Good Hope Road SE Washington DC 20020.
The first performance of this series, will present the East River Collective, an eclectic ensemble of Baltimore-based jazz artists featuring: Craig Alston (saxophone), Theljon Allen (trumpet/flugelhorn), Todd Simon (piano), Blake Meister (bass) and Dana Hawkins (drums). A creative mix of regional jazz artists, that are sure to entertain the residents of Anacostia and community at large.
About East River Jazz: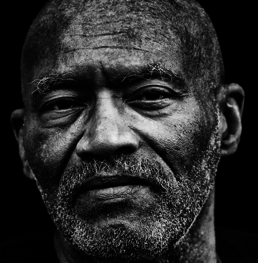 Vernard R. Gray, East River Jazz curator/director is a native Washingtonian whose career, from the mid-60s to present day has included documentary photography and videography, art gallery curating and management, wearable art designing, oral history recording, and jazz culture curation. Gray's Miya Gallery project founded 1976, in downtown DC, led the Black Arts movement of the 1970s through 2000s. He has presented more than 300 jazz performances in the Washington-Baltimore region since 2008.
About East River Collective: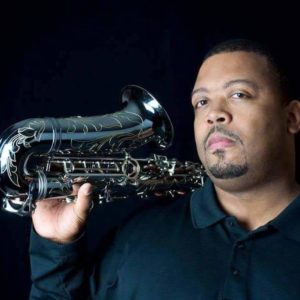 Craig Alston is a multi-instrumentalist from Baltimore who is best known as the saxophonist for 'Fertile Ground'. He has traveled across Europe and Asia, sharing a unique blend of jazz, soul and world music. This broad exposure has allowed him to learn and grow from the various musicians and styles encountered. Alston also performs as an independent artist, playing the saxophone, bass or keyboard. He has played with jazz legends such as Larry Willis, David Murray, Oliver Lake, John Hicks and Jimmy Heath. Alston is the director and instrumental music teacher for the Maryland Summer Center; his program focuses on teaching gifted students the fundamentals of jazz. Although Craig is a jazz musician at heart, he also plays rhythm and blues, soul, hip-hop and gospel.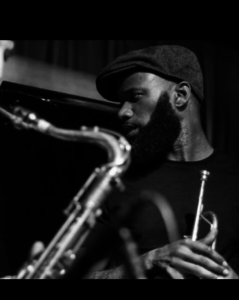 Theljon Allen was inspired by the legendary Jazz musician, Clifford Brown, to become a trumpet player. He heard Brown perform Joy Spring on the radio and thought it was the "slickest ever". Allen began playing music around the age of 4-years old, experimenting with the violin. Listening to Jazz expanded his view of music and different possible genres. He's stated that the trumpet can be a challenging instrument to play and requires daily practice. Allen's dedication and mental approach, have crafted his skill to its current professional level. Allen's musical life has been most impacted by saxophonist/ flutist and composer, Gary Thomas. He draws inspiration from Doobie Powell and considers Keyon Harrold as his current favorite trumpet player.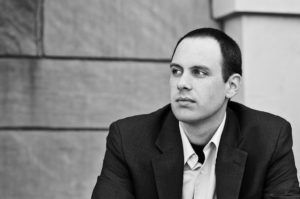 Todd Simon is a highly sought-after musician, composer and arranger in the Washington, DC and Baltimore area who also served 4½ years for the United States Naval Academy Band. He studied piano and organ with Tim Murphy and saxophone with Gary Thomas at the Peabody Conservatory of Music. Upon graduation in 2007, Todd rose quickly through the ranks of the Baltimore/DC jazz scene. While enlisted, he performed for former Vice President Joe Biden, Secretary of State Hillary Clinton, Secretary of Defense Robert Gates, and astronaut Neil Armstrong. Todd's 2013 debut CD of all original compositions, Simon Says earned him a 2014 Herb Alpert Young Jazz Composer Award and a 2015 Maryland State Arts Council Individual Artist Award.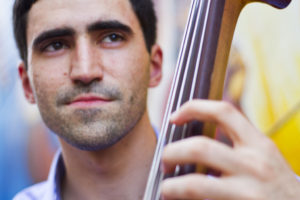 Blake Meister. Born and raised in Philadelphia, Meister began playing electric bass, later honing his skills on the double bass and piano in college. A member of the first full class to matriculate to Peabody's jazz studies department, he attracted attention as a student, receiving both the Alice and Leary Taylor and Richard Franko Goldman Awards in performance; as well as multiple development grants. He went on to earn a Master's Degree in orchestral studies at Catholic University's Benjamin T. Rome School of Music. Before joining the Peabody Conservatory faculty, Meister began as a faculty coordinator in the preparatory division, helping to create a more comprehensive jazz studies program. As a recipient of many awards and grants, his debut album, Septagon was named album of the year by CapitalBop and Washington City Paper. Meister is quickly garnering recognition among musicians and critics alike.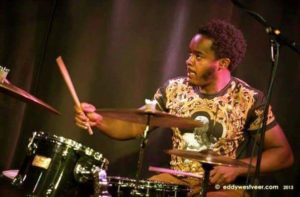 Percussionist Dana Hawkins is a graduate of Berkeley College of Music and a DC resident. During a Master Class session led by Grammy-nominated artist, Meshell Ndegeocello, Hawkins was among a select few students, who were given the unique opportunity to play songs from Ndegeocello's Cookie album. Her guidance has followed him throughout his career. After Berkeley, Hawkins came upon a fortuitous opportunity in New York City to work with the solo bass/electronic compositions of Evan Marien. The pair worked with Grammy Award winners and nominees including: Jack DeJohnette, Stanley Clarke, Meshell Ndegeocello, Esperanza Spalding; they have also been featured in Modern Drummer (US) and in Bass Player Magazine (US, UK, Japan). In 2013, they released an album titled Collections featuring live recordings.  With their music being compared to the melodies of Squarepusher, the textures of Weather Report, and the tranquility of Nobuo Uematsu (Final Fantasy series composer), this progressive collaboration of bold bass artistry, dynamic electronic production, and prodigious drumming, has paved a new path in electro jazz.
About Anacostia Arts Center:
Anacostia Arts Center is a project of the ARCH Development Corporation, a not-for-profit organization dedicated to creating a home for small businesses, artists, arts and cultural organizations to fulfill its commitment to the revitalization and sustainable economic development of Historic Anacostia.  The 9,300-square ft. arts center opened in June of 2013 and includes a café, a black box theatre, two boutiques, a physical therapy studio, an artist exchange and book store.
# # #