NURISH Food & Drink Opens Cafe in Historic Downtown Anacostia
FOR IMMEDIATE RELEASE: February 5, 2014
CONTACT:
Kera Carpenter, Owner/ Founder
email hidden; JavaScript is required, (202) 352-3421
NURISH Food & Drink Opens Café in Historic Downtown Anacostia
A casual French express café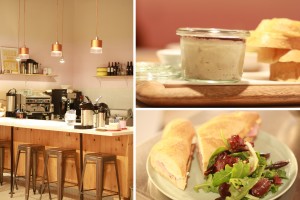 Washington, D.C.­—NURISH Food & Drink will host an invitation-only grand opening this Friday, February 7, introducing a French-themed café and wine bar to the historic Anacostia neighborhood. NURISH is owned by Kera Carpenter, owner of well-loved Domku Bar & Café in Petwork, and is founder of NURISH: The Center for a Creative Culinary Economy, bringing with her experience in opening alternative restaurant concepts in emerging neighborhoods. NURISH is located inside the Anacostia Arts Center upstairs from the co-working and business incubator space The Hive 2.0.
NURISH Food & Drink will offer a menu which the owner describes as "French Express," with items as terrines, verrines, cheese boards, charcuterie, whole grain salads, and baguette sandwiches. The menu offers daytime guests café fare including locally-roasted coffee, fresh baked goods, salads and sandwiches.  In the evenings, NURISH adds cheese and charcuterie to the menu to accompany a list of affordable wines and beers.
The opening of NURISH Food & Drink has come with strong community support, including a successful Clovest crowd-funding campaign that raised a total of $15,000 from 75 funders. Dedicated to the local community, the café will contribute 15% of its profits to its sister nonprofit, NURISH: The Center for a Creative Culinary Economy, which will operate a culinary entrepreneurship training program called NURISH: Youth, a two-week summer camp for young adults with a passion for the food business.
The café will be open to the public beginning Saturday, February 8 at 10:00 a.m.
HOURS
Tuesday-Thursday: 9 a.m.- 8 p.m.
Friday-Saturday: 10 a.m.-8 p.m.
Sunday: 10 a.m. – 3 p.m.
ADDRESS
1231 Good Hope Road, SE
Washington, DC , 20020
(202) 903-7134